Overview
Looking for a completely personalised private tour of Ghent? We're here for you! You can choose a day, the time that best suits you and together we can set the perfect itinerary.
The best independent tour guides in Ghent are at your disposal. Our guides all have their own specialties: medieval history, food culture, Belgian beer, the art of the Flemish Primitives... You name it and we'll find the perfect match.
Save time by leaving all the planning to us. Besides the walking tour itself, we can arrange transport, get tickets to a variety of museums and activities, book you a table at the finest restaurants and more.
With a private guide to explore Ghent you can enjoy the city with your family or colleagues. We have special team building activities to add to your visit as well.
Possible Stops
St. Michael's Bridge and its surroundings
Leie River and the Guild Halls
Gravensteen Castle
Groentemarkt, once the vegetable market
Friday Market
Graffiti Street
Town Hall
Belfry Tower and the St. Bavo Cathedral
and more...
Why a private tour?
You can start and finish when you want and where you want
With just you and your group we can answer all questions you have
Together we'll decide how much (or little) ground we cover. We can add more stories or taste a fantastic Belgian beer
Inclusions & Exclusions
What's included:
Expert local guide
Praline tasting (optional)
What's not included:
Beer Sampling at a bar or brewery (optional)
Museum visit, canal tour by boat or kayak (optional)
Gratuities for the guide (optional)
FAQ
Where do the tours start?

Usually our guides will come to your hotel or B&B to meet you and we can start from there. Or we can meet you at a parking garage, the train or tram station. If you prefer it to maximise your experience in the city centre we may also suggest meeting at a landmark.
Is it possible to focus on a theme?

Yes, of course! We customise the tour to fit your interests whether that's diving into a specific theme or seeing as many landmarks as possible. Just let us know your preferences and your timeframe and we'll do the rest.
Get in touch!
Send us an email using the button above or to ambassadorsofthecitygmail.com to enquire a private tour. We offer them in English, Spanish and Dutch. (Looking for a different language, get in touch and we can refer you to some amazing guides).
If you prefer a call you can reach us at +32 484 935 878 (also for WhatsApp).
2-hour Highlights of Bruges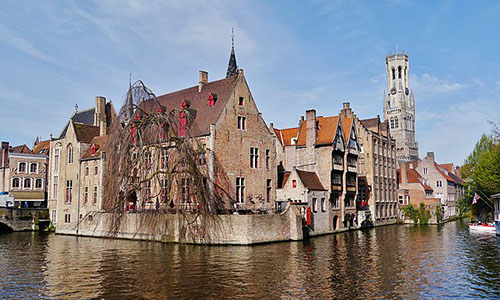 795 reviews

Definitely going to judge all future tours against this one. Pascal was so great and you could feel his love for the city in the tour. We had so much fun with this tour and definitely walked away feeling like we'd gotten the best of Brugge.


377 reviews

We had a wonderful tour with Edward! He was so knowledgeable and friendly and we really got to know the city from a local perspective.


31 reviews

We had a great walking tour with Ray. It was very informative and hit all the must see spots. Ray was a super knowledgeable and fun guy to walk with. I would definitely recommend this to anyone traveling to Bruges.