Bruges Free Tour Overview
This 2 hour free tour of Bruges is the perfect way to start your visit. In small groups our guides cover the fascinating history through stories while showing you the beautiful medieval city centre. Our passionate storytellers are local experts who will show you everything from the famous Belfry Tower on the Market Square, the iconic canals and the Bridge of Love to one of the oldest hospitals in the world.
Our Free Tour of Bruges is the highest rated on TripAdvisor and Google and ranked as one of the top things to do in Bruges. So you can stop doubting which tour to pick. One of our local guides will make it worth your while.
The tour starts at the Market Square and usually finishes right around the corner from where we start. We cover about 2 kilometers and designed our tour in such a way that everyone can join, it's even wheelchair accesible, so strollers are definitely not a problem.
All the guides have their personal focus and too many stories to fit in one tour so every tour is different. There is no set route, so besides the tour highlights there could be (many) more places you visit.
Tour Highlights
Meeting Point & Introduction: Market Square
Belfry Tower & the Cloth Halls
Selfie stop: Bridge of Love
Burg Square, the political heart of Bruges
Church of Our Lady
Fish Market
Gruuthuse Palace
Dijver & Rosary Quay, Bruges' most photographed spot
Old St. John's Hospital
Why walk with us?
We love what we do and always do our very best. At the end of the tour you decide what it's worth to you
We guarantee small groups of maximum 20 people. No big crowds with radio headsets
We're very proud that our tours are the highest rated walking tours of Bruges on TripAdvisor & Google
Inclusions & Exclusions
What's included:
Local English speaking storyteller
What's not included:
Gratuities for the guide (optional)
Schedule
Starts at:
Every day
10:30, 11:00 & 13:30
11:00 & 14:00
Meeting Point
Look for the yellow umbrella
On the Market Square of Bruges, in front of the Belfry Tower.
FAQ
How much distance is covered?

Around 2km (1.25mi). So it's not a long walk, but a lot of the interesting sites are very close to one another. Yet, we're able to talk about it for hours.
What does it mean? A free tour?*

It means that it's a Pay What You Want tour. At the end of the tour, you decide what the tour is worth to you and whether you want to reward the guide accordingly (and according to your budget). That way everyone can enjoy a tour.
Discover our other tours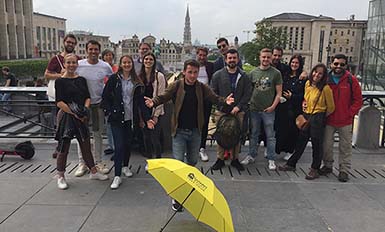 Berlin
Rude Bastard's Tour
Join our daily free walking tour of Berlin. Engaging, funny and politically incorrect, yet informative. A refreshing take on exploring the capital of Germany.

454 reviews

Definitely going to judge all future tours against this one. Pascal was so great and you could feel his love for the city in the tour. We had so much fun with this tour and definitely walked away feeling like we'd gotten the best of Brugge.


132 reviews

We had a wonderful tour with Edward! He was so knowledgeable and friendly and we really got to know the city from a local perspective.


31 reviews

We had a great walking tour with Ray. It was very informative and hit all the must see spots. Ray was a super knowledgeable and fun guy to walk with. I would definitely recommend this to anyone traveling to Bruges.