tastings
all 4 Belgian delicacies
Overview
You probably know what Belgium is famous for, right?
Exactly! Chocolate, beer, waffles and fries!
Now if you are wondering why that is...
Or if you just want to taste our delicacies while hearing the story behind it...
This is the experience in Bruges you can't miss!
Together with one of our top storytellers, you'll wander through the beautiful city centre of Bruges. The storytellers doing this tour all have a special connection with food and drinks and want to share that love with you.
Tour Highlights
Meeting Point & Introduction: Market Square
We'll take you to the main sights of Bruges
Belgian chocolate: praline tasting
Sitting down to enjoy a Belgian beer
We'll pass by two of the best places for Belgian waffles
Enjoy Belgian fries, soft inside, crispy outside, with mayonnaise
Why walk with us?
Our guides love Bruges and Belgian food, they're one of the few giving tours full-time
This is an intimate tour with room for all questions with a maximum of 12 people
We're very proud that our tours are the highest rated walking tours of Bruges on TripAdvisor & Google
Inclusions & Exclusions
Local English speaking storyteller
Belgian Chocolate: tasting two pralines of your choice
Belgian Beer: tasting glass of 15cl
Belgian Fries: with mayonnaise
Belgian Waffles: both of them (tasting portions)
Gratuities for the guide (optional)
Entrance tickets to landmarks that function as a museum (we will visit the free areas)
Hotel pickup and drop-off
Schedule
Starting daily at:
14:30 (reservation required)
Meeting Point
Look for the yellow umbrella
On the Market Square of Bruges, in front of the Belfry Tower.
FAQ
How far will we walk?

We'll cover about 2.75km (1.7mi). It's not really a long walk, but with many of the stops close together, there's plenty to talk about for hours.
What if there are not enough participants?

Don't worry, we'll even run the tour for just 2 people. If there's just one participant, we'll try to reschedule, let you join another tour or offer a full refund, but always try to find the best sollution for you.
Discover our other tours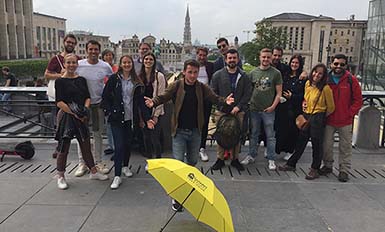 Berlin
Rude Bastard's Tour
Join our daily free walking tour of Berlin. Engaging, funny and politically incorrect, yet informative. A refreshing take on exploring the capital of Germany.

537 reviews

Definitely going to judge all future tours against this one. Pascal was so great and you could feel his love for the city in the tour. We had so much fun with this tour and definitely walked away feeling like we'd gotten the best of Brugge.


169 reviews

We had a wonderful tour with Edward! He was so knowledgeable and friendly and we really got to know the city from a local perspective.


31 reviews

We had a great walking tour with Ray. It was very informative and hit all the must see spots. Ray was a super knowledgeable and fun guy to walk with. I would definitely recommend this to anyone traveling to Bruges.