Overview
Join Tom, Quinten or Conor for a trip through the world of Belgian Beer. With over 200 breweries and well over 3000 beers it's hard to figure out where to start all by yourself. And you would'nt really want to go on this journey drinking alone, no?
That's where we come in: we'll take you to some iconic bars in Brussels to try out 4 different Belgian beers.
3 of those are 15cl tasting glasses. That way we can taste a wider selection of the diverse world of Belgian beers!
But we're no swindlers, so when it comes to the best of the best; a trappist beer brewed by monks; for charity; you'll get a full glass of this godly liquid.
All the while we share the stories of Belgian Beer in general and those of the individual beers. We'll talk about brewing and tasting and we'll be answering your questions.
Tour Highlights
4 Belgian beers and their stories

3 x 15cl taster
Full Trappist beer

Background stories about Belgian beer, the brewing process and more
The story of Trappist beers and why they're so amazing
Why taste with us?
We love what we do and always do our very best. We enjoy these beers ourselves and want you to do so as well
We guarantee small groups of maximum 25 people. Or we'll split the group.
Our host are the highest rated storytellers of Brussels on TripAdvisor & Google
Inclusions & Exclusions
What's included:
Local English speaking storyteller
3 x 15 cl tasting glass
1 x 33 cl trappist beer (full glass)
Entrance to the two bars
What's not included:
Gratuities for the guide (optional)
Schedule
Saturday, Sunday & Monday
18:00
Meeting Point
Inside Scott's Bar
You'll find your host inside the first bar and can recognise him/her by something yellow
Scott's Bar & Kitchen
FR: Rue Montagne aux Herbes Potagères 2, 1000 Bruxelles
NL: Warmoesberg 2, 1000 Brussel
End Point
Depending on the night, the group size and the bars, we'll finish at:
Important Information
This is NO PUBCRAWL nor a ZYTHOLOGY course. This is having a great night with like-minded people, a SHOW ABOUT BEER. But instead of a remote control, you'll have a cold beer in your hand.
Host has the right to reject participants without the right to a refund at his/her discretion if:

Participant hasn't reached the legal drinking age (participant can stay, but won't be served any beers)
participant is intoxicated prior to the start of the activity
participant is part of a bachelor/bachelorette party without written consent from Ambassadors Tours or if participant is part of a loud/belligerent group that is damaging the experience for the rest of the group
FAQ
How far are the bars away from one another?

All the bars are located in the downtown Brussels city centre, only a few minutes walking from eachother:

Théâtre Royal de Toone 350 meter or 4 minutes
Dolle Mol 500 meters or 6 minutes
Delirium Café 260 meter or 3 minutes
Do I need to book beforehand?

We strongly suggest to book (and pay) online. That way we can accomodate seats for everyone and plan which bars are suitable for the group size. We accept last minute walk-inns paid in cash if possible.
Can I bring my kids?

If there's no other option, yes. However, we don't guarantee a PG-friendly environment and language on our beer tour. Infants (0-1 years old) can come free of charge, but the bars can be loud and we need to be able to share our stories, so we strongly advise against it.
Why is the tour 18+ with the drinking age in Belgium being 16?

As this is no pubcrawl, most bars we visit focus on a more serious clientele and have set their own drinking age at 18.
2-hour Highlights of Brussels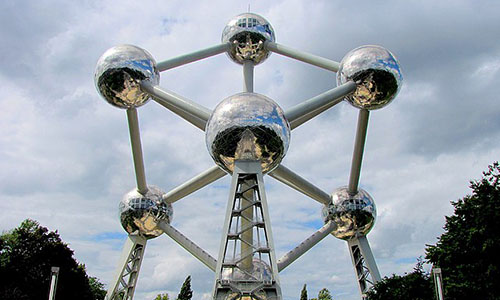 795 reviews

Definitely going to judge all future tours against this one. Pascal was so great and you could feel his love for the city in the tour. We had so much fun with this tour and definitely walked away feeling like we'd gotten the best of Brugge.


377 reviews

We had a wonderful tour with Edward! He was so knowledgeable and friendly and we really got to know the city from a local perspective.


31 reviews

We had a great walking tour with Ray. It was very informative and hit all the must see spots. Ray was a super knowledgeable and fun guy to walk with. I would definitely recommend this to anyone traveling to Bruges.